How learning Artificial Intelligence helps in one's professional career?
Bracing up for a challenging career in Artificial Intelligence
Employees at various stages of their professional careers are compelled by the technological and socio-economic changes that are confining the aptness of these employees' existing skills and learning capabilities.
In order to prepare for a future-ready career, you need to stretch beyond your academic education, skills, and build advanced technical training or specialized educational qualifications.
From the world's reputed technical companies to start-ups, businesses, there is a huge requirement for competent people with a good foundation in machine-learning, mathematics, including statistics, probability, algebra, logic and algorithms, and calculus, as well as strong conceptual understanding in computer science, coding and programming languages like Python, and Physics, Robotics, and Engineering.
Artificial Intelligence is applicable in a variety of fields such as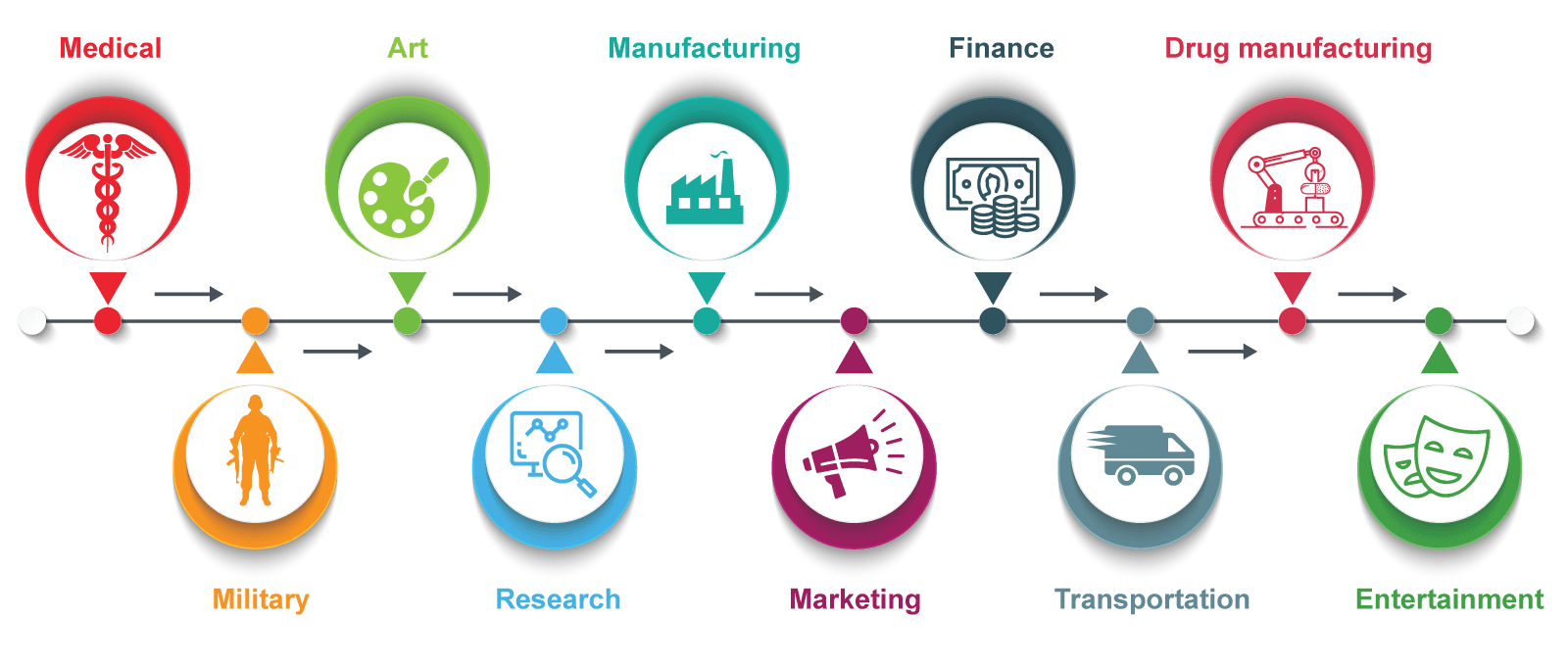 There are wide career options in this fast-developing industry. Basic training courses in the principles and practices pertaining to Artificial Intelligence (AI) enhances your career opportunities.
A career in Artificial Intelligence (AI) can be taken up with different fields of jobs such as
Artificial Intelligence Consultant
Civil Engineer
Data Scientist
Machine Learning Engineer
Data Mining and Analysis
Information Developer
Information Architecture
AI Researchers
If you are already working as a programmer and would like to transition into AI, you can go directly to algorithms and start practicing coding. For a scientist or a data analyst, essentially he/she will have to acquire programming skills.
Benefits of Artificial Intelligence
The onset of Artificial Intelligence in the office environment facilitates taking over mundane tasks and will prove to be ideal for workers for getting rid of administrative tasks.
Principally, AI-programmed Robots have capability to replicate certain specific essentials of human intellectual abilities. The AI Robot compiles facts about a situation with the help of sensors or human inputs. The computer checks this information with stored data and assesses what the information implies. The computer runs through different possible actions and anticipates which action will be most appropriate based on the gathered information. For instance, Chess computers are a classic example of Robot.
Global IT giants such as Amazon, Salesforce, Google, and Microsoft are able to enhance their enterprise AI capabilities through relying on AI.
How does AI help in shaping one's professional career?
When you are armed with both knowledge in AI and your domain skills, you will be an automatic choice to train and manage AI in your organization when the time comes. As such, reap the benefit out of AI reading books and articles, attending conferences, apart from taking up online courses and attending webinars to gain knowledge about AI and its applications.
The latest Trends in AI
Amid the rise of AI, Job portals such as Indeed, Randstad, even People strong are finding it tough to keep pace and resort to the strategy of acquiring companies.
Job seekers are tired of lack of response from companies after attending interviews. This is where AI-specific recruitment tools are employing big data and analytics that are doing the trick.
What the future holds for AI?
The pace of AI's growth is such that it is tough to predict the future. Companies would be hard-pressed to recruit at least a million number of AI specialists for their future engineering jobs. In the US alone, there are 32,000 jobs are lined up for AI specialists, with companies are readying to roll out handsome salary packages to AI experts.
Conclusion: It is anticipated that the exponential growth of AI is thwarting industries and could endanger the job security of workers all over the world. Effectively, it means low-to-middle level technology jobs like business development managers, man-machine teaming managers, receptionists, office clerks, analysts, customer service executives, doctors, and advocates could be losing their jobs in the next decade.