Training and Placements
Placements provide an opportunity for students to put their subject knowledge to practice. It is the dream of every student to be placed in a top organization.  And, there is an increased competition for employment today, making placements a challenging task for students.
Along with technical expertise, development of a holistic personality is also necessary. Keeping this in mind, AGI operates a fully-fledged training programmes in its colleges to enrich the skills of rural students and ensure placements.
Some of the training programmes include
Communication
Development

Programme

Success in career requires more than a solid grounding in the area of specialisation. It is essential to present ideas effectively and persuasively. Due to improper base of English, students from rural regions lack confidence and are not able to speak, communicate and read English as compared to city/urban students.

The mission of Annamacharya Group is to equip these rural students with communication skills to achieve their goals. All Annamacharya Institutions take an extra mile to develop communication skills for students from different backgrounds. This helps the students to create a common pool of ideas, strengthen the feeling of togetherness through the exchange of messages and translate into action at the workplace.
Problem
Analysis

Programme

Problem Analysis is the key skill that enables the student to sustain during their employment. Problem analysis involves identifying the overriding problem and establishing the causes and effects related to that problem. A key element of this analysis will ensure that "root causes," not just the signs of the problem, are identified and subsequently addressed in the project design.

As a student becomes the part of the project in an organization, these projects essentially deal with problems. In such situations, what should I do? is what is addressed in this programme.
Professional
Ethics

Programme

Ethics are a fundamental requirement of any profession. It is integral to achieve goals in career. In this programme, the students are taught to identify the moral hazards and appropriate avoidance or work-around strategies. Further, professional ethics represent a kind of collective, time-tested wisdom that is passed on to new professionals.
Social
Responsibility
This programme inculcates students to "give back to the community". A sense of empathy to fulfil the needs of the society. It develops safe, positive, and productive learning environments through research-based programs that improve students' ability to contribute to their communities, and develop their social and emotional intelligence, and academic performance.
Employability
Skills

Training

The module for this training programme focuses on improving students' employability to sustain in the organization. This training highlights all the key skills such as analytical thinking, team building, work etiquette, interview skills along with resume writing and nurtures leadership qualities among our students.

Annamacharya Group believes these qualities are essential to be ingrained in students before they graduate. With a well drafted curriculum and by carrying out teaching-learning process through a highly qualified, experienced and dedicated faculty, it focuses creating a brighter future for students.
T & P
Organizational

Structure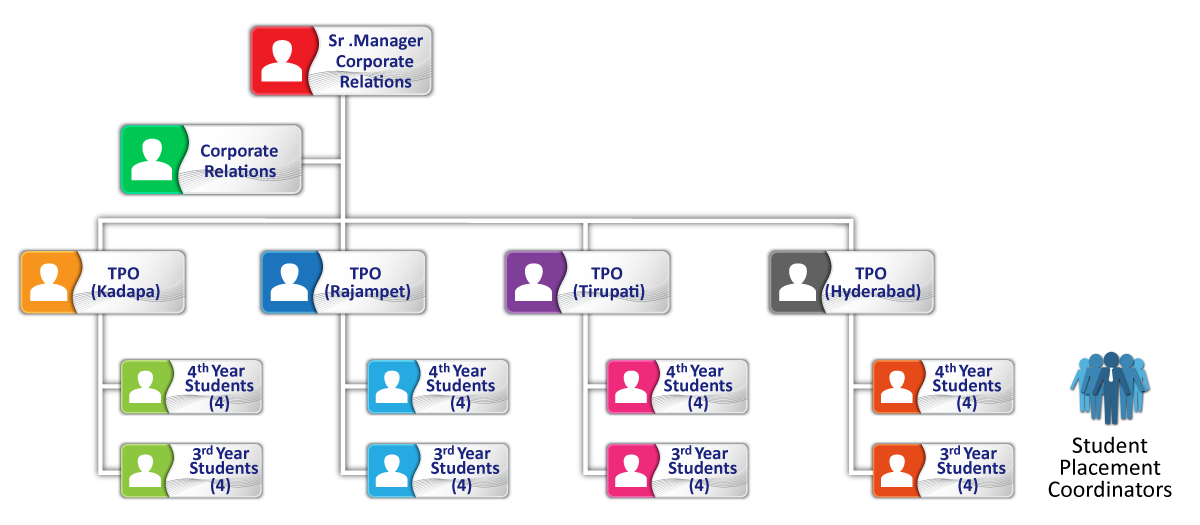 Sunil Alluvada is currently working as Sr. Manager Corporate Relations in our institute. For the past ten years, he has worked for various prestigious institutes with the sole purpose of catering the aspiring students with ample amount of opportunities for a flourishing career by fostering an environment where collaboration with industries to understand emerging needs and career opportunities, thrives. With a track record of very productive relationships with corporations of all sizes, ranging from Start-Ups to Multi-National Companies Mr. Sunil constantly strives to bridge the gap between the industry and institution making the students, industry-ready arranging viable assistance by designing and conducting diverse pre-placement training sessions, providing students, with certification programmes, projects, internships, and career guidance by experts from industry. As a result, many students were able to secure lucrative and esteemed positions under his guidance.